Contracting Best Practice - Improve Supplier Productivity Using the Automated Function Point (AFP) Standard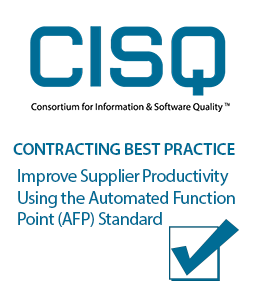 Author:
David Norton, Executive Director, CISQ
This whitepaper contains sample contract language for software development outsourcing and addresses how to measure development productivity in contracts for software development using the Automated Function Point standard.
The Automated Function Point standard is an automatable measure of software size used in cost estimation, progress tracking, productivity measurement, and other software project management activities. The standard is used in software development outsourcing contracts to specify a base level of productivity (number of function points per staff month), to set a rate invoiced per function point when software is delivered to the customer, to ensure the quality of function points delivered, and to set incentives for higher productivity.
The OMG® standard for AFP can be downloaded for free at https://www.omg.org/spec/AFP and purchased from ISO® at ISO/IEC 19515:2019.
Sections of the paper include:
Introduction to the Automated Function Point standard
Recommendations for Software Development Pre-Contracting
Software Development Contracting and Productivity
You might also be interested in this paper containing contract language for software development outsourcing:
Contracting Best Practice - Lower Risk and Improve Outcomes with Suppliers by Using Software Structural Quality Standards