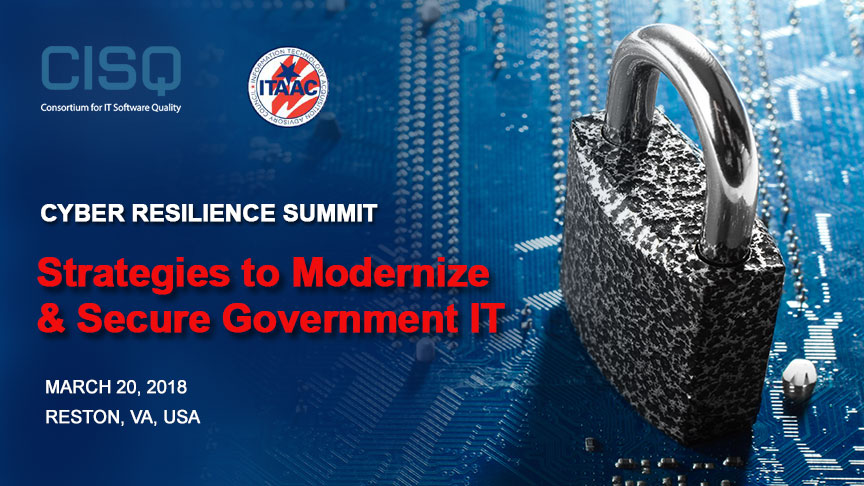 Topic: Reducing Modernization Risk through Compliance to Software and Risk Management Standards
Hosted by: Consortium for Information & Software Quality (CISQ) in cooperation with the Object Management Group (OMG) and IT Acquisition Advisory Council (IT-AAC)
Date: Tuesday, March 20, 2018 from 8:00am – 3:00pm
Venue: Hyatt Regency Reston, 1800 Presidents Street, Reston, VA
Knowledge Repository: http://it-cisq.org/wiki/cyber-resilience-summit-knowledge-repository/
**Speakers and attendees, to submit content for the knowledge repository, please send to**
REGISTRATION IS NOW CLOSED! THANK YOU TO EVERYONE ATTENDING!
The 5th semiannual Cyber Resilience Summit: Strategies to Modernize & Secure Government IT returns to Reston, Virginia in March. Invited to speak are National Cybersecurity Leaders from the White House, Department of Defense, and Congress to discuss action plans outlined Executive Order 13800 for Cybersecurity, the American Technology Council's IT Modernization Report, and the Modernizing Government Technology (MGT) Act – just signed into law to accelerate the modernization and security of our nation's critical IT infrastructure.
The government's plan is to maximize the use of commercial innovation, commercial standards and commercial best practices to modernize and secure legacy systems that right now are the #1 cyber threat.
The Cyber Resilience Summit will discuss standards and best practices for risk-managed digital transformation and the practical application of systems engineering to support agile acquisition, cloud readiness, big data, technical debt control, and cyber risk management of complex mission, C2, weapon and citizen-facing systems.
AGENDA
Time
Session
8:00
Welcome and Introductions
– Dr. Bill Curtis, Executive Director, Consortium for Information & Software Quality
– John Weiler, Vice Chair, IT Acquisition Advisory Council
8:15
Keynote: Jeanette Manfra, National Protection and Programs Directorate (NPPD) Assistant Secretary for the Office of Cybersecurity and Communications (CS&C), U.S. Department of Homeland Security
Assistant Secretary Jeanette Manfra is the chief cybersecurity official for DHS and supports its mission of strengthening the security and resilience of the nation's critical infrastructure.
8:45
Action Plans for Executive Order 13800 and Modernizing Government Technology Act
Moderator: John Weiler, Vice Chair, IT Acquisition Advisory Council
– Grant Schneider, Acting Federal Chief Information Security Officer; Senior Director for Cybersecurity Policy, National Security Council
– Major General Burke E. "Ed" Wilson, Deputy Assistant Secretary of Defense for Cyber Policy
10:00
Refreshment break & networking
10:20
Standards for Managing Cyber Security, Risk and Technical Debt (Download presentation PDF)
Dr. Bill Curtis, Executive Director, Consortium for Information & Software Quality
10:45
Using Software Quality Standards with Outsourced IT Vendors – a Fortune 100 Case Study (Download presentation PDF)
Marc Cohen, Vendor Management practitioner at Fortune 100 institution
11:15
Lessons Learned from Major IT Outages and Security Breaches
Moderator: Dr. Bill Curtis, Executive Director, Consortium for Information & Software Quality
– Dr. Ron Ross, Computer Scientist and Fellow, NIST
– Adam Isles, Principal, Chertoff Group (Download presentation PDF)
– Michael Chung, Head of Solutions, Government, Bugcrowd (Download presentation PDF)
12:00
Lunch – sponsored by Bugcrowd
1:00
Risk Management Standards in Practice
Moderator: Dr. Bill Curtis, Executive Director, Consortium for Information & Software Quality
– Dr. Ron Ross, Computer Scientist and Fellow, NIST
– Robert Martin, Senior Principal Engineer, MITRE (Download presentation PDF)
– Herb Krasner, University of Texas at Austin (ret.), Texas IT Champion (Download presentation PDF)
– Brian E. Finch, Partner, Pillsbury Winthrop Shaw Pittman LLP
– Jeff Barksdale, Principal Security Advisor, Underwriters Laboratories (UL) (Download presentation PDF)
2:00
Success Factors for Effective IT Modernization – FITARA and CISO Perspectives
Moderator: John Weiler, Vice Chair, IT Acquisition Advisory Council
– Jose Arrieta, Deputy Assistant Secretary for Acquisition and Senior Procurement, U.S. Department of Health and Human Services
– Sanjeev "Sonny" Bhagowalia, Senior Advisor on Technology and Cybersecurity, Commissioner's Office, Bureau of the Fiscal Service, U.S. Department of the Treasury
– Vice Admiral Kevin P. Green, USN (Ret.), General Manager, Robertson Blodgett Consulting, LLC; Vice Chair, IT Acquisition Advisory Council (IT-AAC)
3:00
Close
Thank You CISQ Sponsors

Partners

Photos